CloudSee Drive is Here
Many years ago, Webapper built a series of tools to help us manage various tasks for our cloud hosting clients. We called it CloudSee, and we still use it every day in our managed hosting. Last year, a client requested functionality that was missing from original CloudSee — a file browser for AWS S3 buckets. Rather than bolt something onto what we'd already built (using some "older" tools & techniques), we decided to build something completely new using latest and greatest methods. And now, a few months later, we have officially launched this tool. CloudSee Drive is here.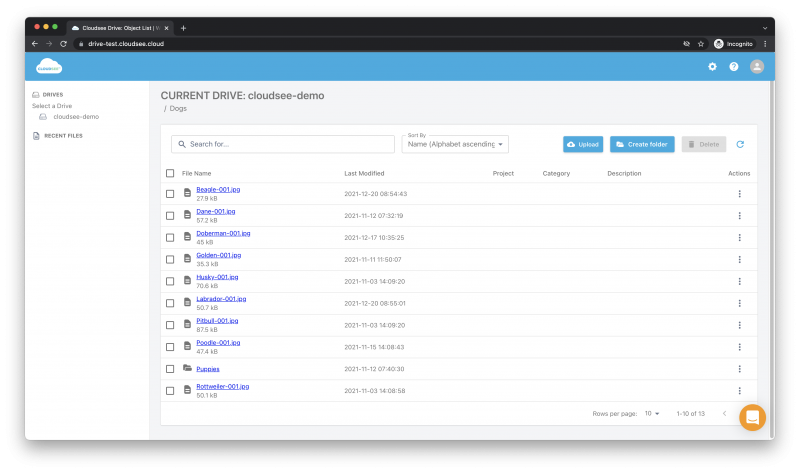 What Is CloudSee Drive?
We built CloudSee Drive For both AWS administrators and end users who access AWS S3 buckets. Simply stated, it is an S3 file browser that runs in your browser. We modeled CloudSee Drive after familiar tools so no one needs training or support to use it.
Browse
S3 Buckets are known for becoming dumping grounds for files and media. We wanted to make them more like local hard drives, with structured folders and simple file names.
Search
Even in simple file systems, over time the amount of data and media can become unmanageable. That's why we made each bucket searchable. Enter part of a file name and CloudSee searches the bucket, returning a list with all the details.
Upload/Download/Tag
Your users can add new files to a bucket, including some metadata (e.g., project and description) to help identify and retrieve it later. "Find the files starting with 'Ozark'" or Give me all the files from the 'Webapper' project" are queries you could perform by entering 'ozark' or 'webapper' in the search window. Users can view or download files too. Instead of using synchronized storage systems, files live in one "in-house" environment.
How Does CloudSee Drive Work
We built a modern application using serverless computing. That means there's nothing to download or install for users.
CloudSee Drive users can access any S3 bucket the administrator enables as accessible. We added a security layer on top of AWS so that your users don't need AWS credentials or console access. The administrator connects CloudSee Drive to the AWS account, then manages users and permissions (e.g., which S3 Buckets, delete file privileges).
Users can use CloudSee Drive with the most popular browsers — Google Chrome, Safari, Firefox, and Microsoft Edge — from a desktop computer, laptop, tablet, or phone.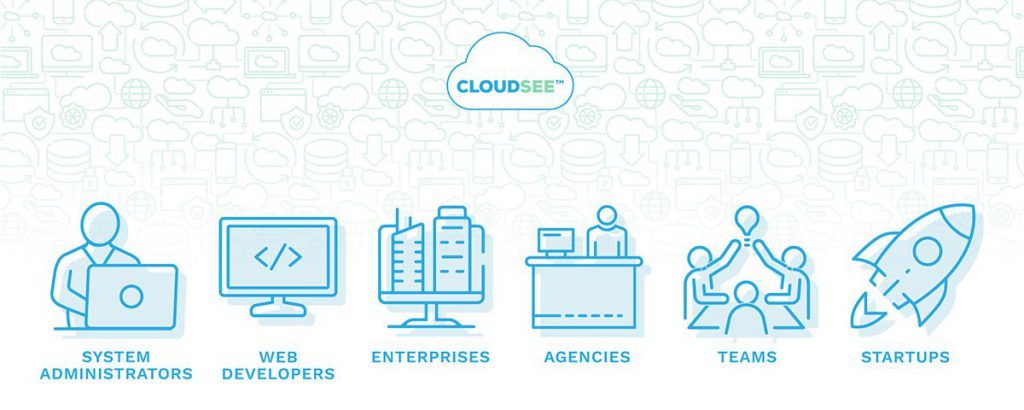 Who Needs CloudSee Drive
We can't anticipate all the potential uses of this software, but we designed it for a few key categories of users and industries we work with. First, AWS system administrators will appreciate having a simple interface to view S3 buckets, especially with a better presentation than the console… Second, we know many web developer and agencies use S3 with their websites to store media, and that's where we learned about the 'dumping grounds'.  Third, our initial inquiry that drove the need for CloudSee Drive was a small organization team that was sharing files. They were using an expensive corporate solution that required users to upload and synchronize all the time, with massive files, which wasted time and bandwidth. Fourth, we know a number of startups who would benefit from using S3 buckets more effectively. And finally, when we were previewing CloudSee Drive to early adopters, some major enterprises expressed interest — it's efficient and a model that works for cross-functional teams in large organizations. But as we said at the start, we suspect others will step forward as we move ahead.
Practicing What We Preach!
We eat our own dog food (i.e., we practice what we preach and do what we recommend). If you look around our website and our other articles, you'll see how we're anchored in process. We wrote a SaaS application of our own and it runs on AWS. Everything about this product is cloud native. We use scrum to manage projects, and this project had a series of sprints to get us to a product launch. AWS Lambdas and serverless computing powers the product, so it's seriously cost and environmentally efficient. As with all our recent SaaS projects, we use a CI/CD pipeline for testing and delivery. DevOps FTW. We also will continually work on our test coverage — we have unit testing and UAT in place (but most likely some blind spots too). And we'll wrap it all together with our product led growth marketing framework.
We invite you to try CloudSee Drive and follow us on our SaaS journey. We're listening!