Data Modernization 101
Data is the lifeblood of any company today. Rare will you attend a business meeting without mentions of earnings before interest, taxes, depreciation, and amortization (EBITDA), key performance indicators (KPIs), objectives & key results (OKRs), and a growing array of acronyms emblazoned on executive dashboards. We've morphed from starving to get enough data to swimming in it. We're now faced with a new challenge: making sense of data, turning data into useful information. And the way forward is data modernization.
Data History
If you watch an old episode of Mission Impossible or Mannix from the late 1960s, you'll see reel-to-reel tapes, the original method of storing data. Very little information was available, but organizations that could capture and use electronic data — using mainframe computers — had a competitive advantage. As data grew in these centralized systems, it became siloed. With the advent of personal computers in the 80's, data moved from the middle to the edge, as departments could build their own applications using simple database tools and spreadsheets. When the internet arrived, data moved faster than ever, but those local databases weren't easy to integrate within the organization. That led to re-emergence of centralized data repositories, fed from the edge. Ultimately, that's where we are now, with many inputs coming from the edges, such as marketing, finance, development sales, customer service, and operations.
Data Management
Data is collected and moves through the organization using a variety of tools.
Databases
From departmental systems to enterprise applications, data collection feeds databases every day. The marketing department gets data from the website, operations collects log files, and sales teams enter information into the CRM. Each subsystem is typically separate.
Data Warehouses
Sometimes static data is loaded into data warehouses for analysis. Large amounts of information can be extracted from databases, loaded into the warehouse, and sliced & diced for reporting. It's a method used for decades to really understand what's happening in the organization. But it only works with structured data… [https://www.webapper.com/data-lakes-vs-data-warehouses/]
Data Lakes
Unstructured data is best managed in data lakes. Data can come from all over — sensors, logs, images, emails, systems, and documents. Specialized reporting tools enable stitching together disparate source materials to glean valuable information.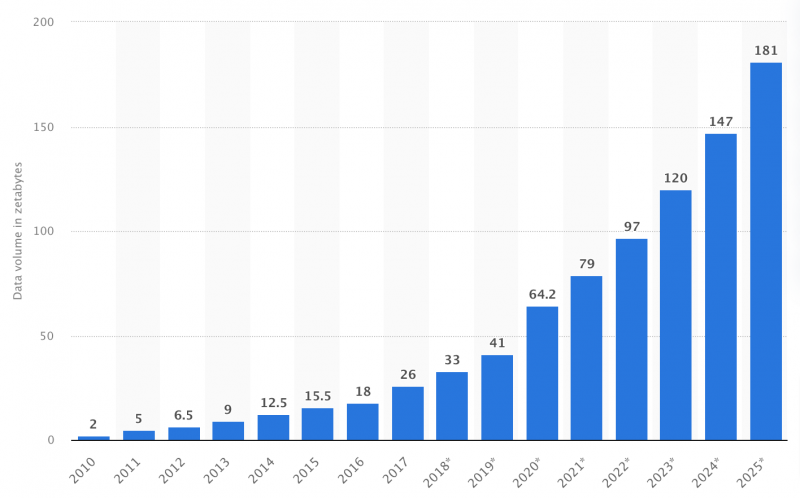 Data Growth
As we mentioned at the outset, data is growing in a hockey stick curve. THe volume of information captured and consumed worldwide will exceed 180 zettabytes by 2025…
Basic Business Needs
Running the core of the business involves a variety of applications, like HR, finance, customer service, and procurement. Each set of data grows with the organization over time, and each seems to grow in complexity too.
Business Opportunities
Growing the business often entails growing the systems that feed it, like CRMs for sales and analytics for marketing. Tracking the customer's entire journey adds up quickly.
Compliance
Keeping accurate records is often required by law. Data retention policies may entail storing years of massive data.
Sprawling
The end result is sprawling data — many sources, many transformations, many archives, all in many places within the organization.
Data Modernization Strategies
Here's where the rubber meets the road. Data modernization improves organizational access to all your information in order to provide better business intelligence. It includes transforming data from a wide variety of legacy applications to enable analysis anywhere…in the cloud or on-premises. Data modernization cleans and moves data into a new cloud infrastrucure environment, converting data assets into a usable format. The data transformation. After data has been modernized, your users can access it with analytics, visualization and machine learning tools.
Your data modernization strategy will include steps that optimize your effort.
Map Data
Make a list and check it twice. Talk to your team(s) to find all their sources of data. As you catalog them, assign a few scores to them: impact on the business, effort to migrate, and priority. We like 0-10 ratings (10 being highest), combining the scores to a total you can tackle in order (high impact, easy to migrate, most important in timing).
Consolidate Data
Once you have a map, you'll start migrating from multiple sources into a single environment.
Cleanse Data
Where possible, clean up your legacy data – de-duplicate records, de-duplicate redundant databases, eliminate temp tables, and fix errors.
Secure Data
In an era of unparalleled cybercrime, keep an eye on data security. As you unplug old systems, lock down user and system access. Protect the jewels!
Governance
Data modernization projects present an opportune time to match retention policies to retention practices. Make sure you're compliant with your security and industry requirements.
Archive Data
When you have a handle on retention policies, you can potentially reduce storage costs with an archiving strategy. Store enough, but not too much. Use less expensive cloud options where possible.
Machine Learning & AI
We briefly mentioned this briefly, but data modernization puts you in position to leverage modern tools like machine learning and artificial intelligence. Your data may offer patterns you never could tap into before. For example, sales & marketing data may be used to predict how to deliver the right message at the right time to the right lead.
Data Modernization 101
A modern data architecture is critical for applying operational intelligence that drives insights and action. Modernizing your data also makes it more accessible and compliant with data security and privacy regulations. Your data drives competitive advantage, so you'll be able to bring new products & services to market faster, outperform competitors, and increase your revenue.