DESKTOP AS A SERVICE | DAAS
Move Your Team into a New Cloud Office
DaaS Provides Secure Cloud Desktops for Remote, Mobile, and Contract Employees
Enable workers to access your office from anywhere.

Save time & money on technology resource management.

Maintain security while enabling ultimate scalability.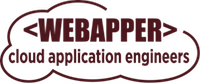 Desktop as a Service: DaaS Maximizes Remote Productivity

Rapidly Deploy Secure, High Availability Resources for Your Remote Workforce
Webapper provides managed, secure Desktop-as-a-Service (DaaS) solutions to midsize and enterprise businesses. With Webapper's cloud infrastructure expertise, you can leverage remote desktop infrastructure to provision either Windows or Linux desktops and quickly scale to support your team anywhere in the world.
Our solutions enable you to create virtual, cloud-based desktops which can be of Microsoft Windows or Amazon Linux for your users.  You don't need to install hardware or software, and you can add or remove users any time. Your users can access your company's resources using many devices.
Work from anywhere, on any device.